A Flash of Scarlet 1
There can be no discussion of the founding of New France or even of France itself without mention of the great Cardinal Richelieu. The name is given to the great river running through Quebec and New York State as well as the many historic villages along it's route. A mentor of Samuel de Champlain, he set up the Compagnie des Cent-Associés to encourage the fur trade and colonize North America for France. We have seen varying images of him in the media, mostly sensationalist, biased portraits thanks to Alexandre Dumas' novel, The Three Musketeers. If you have read any of the history of France you will know him to be a man of his time, a time of war, bitter struggles and court intrigues.
Richelieu was born Armand Jean du Plessis September 9, 1585 at "l'hotel de Losse" in Paris. It was situated near the Louvre, No. 4 Rue de Bollouer and became the family's place of residence until 1588. It was not an ostentatious dwelling but certainly one suitable to Francois du Plessis' rank of "grand prevot" of France for Henry III. Below, some photographs of No.11 Rue de Bulois (current name), No.4 not being found.
In the back, a courtyard.
There is also a small passage leading through to the "Cour de Farm" or taxation offices of the ancien regime on Rue du Louvre.
The length of time between Richelieu's birth and his baptism on May 5, 1856, at St. Eustache church in Paris has given rise to some conjecture as to whether he was in fact born in Paris, as he always claimed, or at "Richelieu", the family home in what used to be Touraine. Author, Joseph Bergin has ascertained that Suzanne, Armand's mother, was present in Paris both weeks before and after his birth.
The Du Plessis family were historically, one of lesser nobility, struggling to maintain their status. Based in the province of Poitou, they did not settle until the middle 14th century, near Chinon and Loudun, where they intermarried with families of a similar status. In this way, they acquired lands and titles to become part of seigneurial society. The acquisition of the seigneurie of Richelieu came about in this way when Geoffroy du Plessis married Perrine Clerambault. Perrine's brother, Louis held a post in the court of Charles VII and left his fortune and estates to Francois du Plessis, their son and Armand's second great-grandfather.
If a son was not able to capture an appropriate bride, he might turn himself into a mercenary soldier, Catholic or Huguenot, or find employment in the household of a great noble of his province. A final option was ecclesiastical life. In this, the family was lucky, they had gained the bishopric of Lucon through Jacques le Roy, Armand's great uncle.
The great uncle, Jacques had chosen three out of five of his great-nephews to follow him in the church (Armand's great-uncles). Two did well but one, Antoine, turned out to be a fighting man and joined his brother Francois in the Italian wars. The two attached themselves to the Duc de Montpensier and the Guise family who were ultra Catholics, waging war against the Protestants in Poitou. Francois was killed fighting the English at le Havre. Antoine went on to win a place at court and a knightly order.
Armand's grandfather, Louis du Plessis, Seigneur de Richelieu, died young but helped the family fortunes by entering the household of Antoine de Rochechouart as lieutenant of his bodyguard. He married Francoise, the daughter, which gave Armand a legitimate connection to a very old and noble family of France. Francoise was a woman of high temper and very strong character. Louis' connection to the Rochechouart family allowed him to gain an appointment as chief butler to Henry II. He was not a prudent man and left his widow and five children with very little money. This made Francoise a very bitter woman. She took up residence at Richelieu on the river Mable, in country torn apart by civil war. This is where Armand's father Francois, was raised.
There was a legend that surrounded Francois du Plessis' youth. While he was away working as a page in the court of Catherine de Medici and Charles IX, his brother Louis was slain by his neighbours after a quarrel. His mother called him back to Richelieu to avenge his brother's death. This he did by laying down a cart wheel in the river which the horse's hooves would get stuck in and halt any escape. After this act of revenge legend says Francois had to leave the area for 8 years, ending up in Poland under Henri III. It seems unlikely that he would then be allowed to marry the daughter of a prominent parliamentary lawyer which he did in August 1566. In his book," The Rise of Richelieu", Joseph Bergin states that it is more likely that Francois was granted a pardon by the King as was commonly done at that time. After serving his military apprenticeship under his uncle Antoine, Francois was appointed "counseller prive" by Henry III in May 1578.
As Henry III looked for ways to deal with the problems presented him during his reign,(the disaffection of his brother, failure to achieve peace with the Huguenots, the threat of the nobles joining sides with the Huguenots and the influence of the Guise family), he sought out the more level headed middle nobility. To this end, he created a position for Francois du Plessis as "Grand Prevot" or Grand Provost of France.
If we look at some of the duties Richelieu's father was charged with we may begin to see where the son gained some of his abilities and character. Francois was given numerous commissions around the country to arrest and bring suspects to trial and execute them if necessary. He was sent to Normandy to put down an uprising there in 1579. He publicly displayed the heads of known freebooters, made public arrests at the Estates General and even tried the dead body of Henry III's assassin. For his services, he gained knighthoods first in the Order of St. Michael and then the Order of the Holy Spirit. After the murder of Henry III, he continued in service to the Protestant king, Henry IV, as captain of his guards. Within a year, he caught fever and died. The date was July 1590.
Main sources for this post were Joseph Bergin: The Rise of Richelieu 1991 and Eleanor C. Price: Cardinal de Richelieu 1914
A Flash of Scarlet Part II
Suzanne du Plessis, finding herself suddenly bereft, left the Paris townhouse and took up residence at the seigneurie of Richelieu in Poitou, there to live under the iron hand of her mother-in-law, Francoise de Rochechouart. During the 1580's, Francois du Plessis (her husband and the Cardinal's father) had become somewhat of a speculator at the court of Henry III, attempting to raise money for the King while at the same time earning some for himself. He became involved in many investments, including the building and selling of ships, borrowing money to invest and then repaying when the investments paid off. His early death however, left his creditors unpaid, throwing the family into tumult.
One thing that he did to the family's benefit was to name his uncle, Jacques du Plessis (one of the previously mentioned boys to inherit a benefice from the Le Roy family) as a candidate for the bishopric of Lucon when that opportunity was presented to him by Henry III. Now, the Richelieu family did whatever they could to secure their hold on it. Suzanne applied for the lease of an abbey which she claimed belonged to her son, Alphonse and was compensated for the loss of it. Alphonse was the son chosen to become Bishop of Lucon. Armand was to take up a military career.
After spending most of his childhood at Richelieu, Armand was sent to the abbey of St. Florent de Saumur and then to the college of Navarre in Paris from 1595-1600. It is thought that his uncle, Amador La Porte, may have been his benefactor in paying for him to attend this prestigious school. He then went on to take military training at Antoine de Pluvinel's military academy where he would learn the "social graces" along with military skills. Those "social graces" would lead to him being among a number of young men who were treated by Henry IV's physician , Jean de la Pierre, for "gonnorhea inveterata" which would infer that it wasn't the first time he had been treated.
That type of life was soon to come to an end. His family,was under barrage as they tried to hold down the see of Lucon against the cathedral chapter who claimed that there were illegalities to their claim. The revenues of the church were going into private hands instead of being used to repair the tired, war-torn cathedral and community. After doing everything they could to get Alphonse installed as bishop of Lucon, he decided that he was called to be a monk. This did nothing to help a family under duress . Armand was pulled from Monsieur Pluvinel's academy and brought home. A short while later in 1603, Henry IV nominated Armand as bishop. He was only 18 years old.
Below a map of Lucon in relation to La Rochelle, France a distance of 42 kilometres.
Main Source: Joseph Bergin: The Rise of Richelieu 1991
A Flash of Scarlet Part III
While Henri du Plessis, made his way at court, the young Richelieu began a course of study which gained him entrance to the College de Sorbonne, France's prestigious school of theology. In 1606, with a little influence on his brother's part, Henri IV finally named Armand, Bishop of Lucon. Because he was only twenty-one, five years under the required age to become a bishop, he was sent to Rome for dispensation by Pope Paul IV, who made him first a priest and then a bishop. The Pope had been impressed by the young man who displayed uncommon composure and intelligence for his age, as well as a sense of piety. At that time there was also a call for young Catholic evangelists to counter the Protestant reformation.
In 1608, Richelieu returned to a Paris that had profited along with the rest of France under the reign of Henry IV. The King was an ebullient person and this showed in his attention to Paris which now had a new town square in the Marais and the new Pont-Neuf bridge across the Seine. It is still there today, the oldest standing bridge in Paris.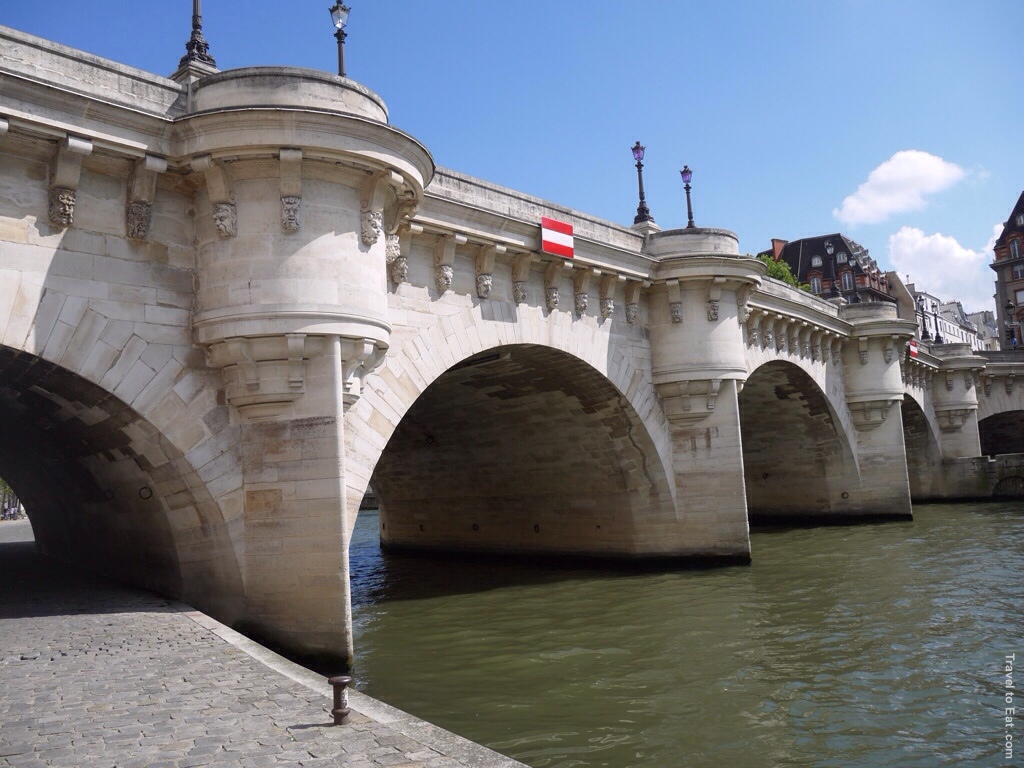 Sadly for the young bishop, he would not be able to share in the glitter of Paris, the city he considered to be his home. He was to travel to Lucon, a place still mired in the medieval darkness and ignorance of so many towns in France at that time. Set on the western coast, Lucon was swampy and mosquito infested. The town itself had suffered the ravages of the Wars of Religion, leaving many of it's prominent buildings, including the cathedral and the bishop's residence devastated.
Richelieu's youth and one may think, his naivety, were very probably an aid to him in this undertaking, for in spite of the Church's presence, the practice of witchcraft was still very common. In 1634, he would become involved in the "possessions of Loudon" and execute the priest responsible for exhorting a convent of nuns into hysteria. For now, his main concern was to get control of his diocese following the Council of Trent as a guide. It would prove to be no easy task. His days were spent preaching, training the clergy and repairing the run-down cathedral. He dredged the canal which led to the ocean while "keeping an eye" on the local Protestants. He did make attempts to convert them but did not infringe on the right to free worship granted to them by the Edict of Nantes. Even before he arrived, the cathedral chapter set up a list of grievances and demands and were preparing to go to court. The area had been so long neglected, his great uncle Jacques hadn't even set foot in the place. They demanded that some of the revenue gained by Richelieu be put into the town. Showing his future talent for diplomacy, he agreed to put a third of his own money towards the restoration of the cathedral buildings. He would not take any further responsibility for its repair or upkeep.
Lucon had been a part of the much larger diocese of Poitou and had within it a number of major abbeys which were often in the hands of great nobles. Learning to move in these circles would require deference, tact and firmness, much more easily given at this stage of his life. Before he arrived in Lucon, the Capuchin monks were already at work in the area, at their head, Pere Joseph Francois le Clerc du Tremblay. "Pere Joseph" was a former soldier who had taken up the Catholic cause. Richelieu asked him to help within the diocese and a life long friendship would commence between them. Joseph would become known as the "Grey Eminence" after the color of his smock.
On the other side, Lucon was only one of the "places de surete" in Poitou that Henri IV, himself known as "the Protestant King", had set up for the Huguenots. Here they lived confidently and prospered. The great Protestant fortress of La Rochelle was nearby and the leading academy of Saumur turned out leading scholars. This was not an auspicious start. The Protestants refused to pay taxes and were burying their dead in the Catholic cemeteries. They also used the Catholic churches for their own services. All of this the young bishop put to an end. Then he sat down to write "The Principaux Points de la Foy de l'Eglise Catholique".
Main Sources: The Rise of Richelieu: Joseph Bergin 1991, Eminence: Cardinal Richelieu and the Rise of France: J.V .Blanchard 2011
A Flash of Scarlett Part IV
While Richelieu toiled away in the country, Henry IV, the first Bourbon king, continued his life of warring, over-indulging and taking mistresses until "the madman Reveillac" caught up with him as he was riding through Paris in a coach. Henry, who had become somewhat paranoiac, was in a deep depression at the time, even sensing his impending death. As the coach rolled along Ravaillac a deranged religious fanatic, jumped onto the coach, reached inside and stabbed him twice. All France mourned "le Vert Galant", the king who walked among his people. The year was 1610.
This left Louis (XIII), though not his father's favorite, next in the line for the throne. Since he was only 8 years old at the time, his mother, the infamous Marie de Medici became regent. As with most royal marriages of the time, it was one of expediency and not love. Henry was known to have had 60 mistresses, many of whom's children were raised as one at St. Germaine en Laye. Marie was daughter of the Grand Duke of Tuscany, Francesco de Medici and Joanna, Archduchess of Austria. This made Marie part Hapsburg. The Hapsburg empire was an ever-encroaching threat on France's borders and was home to many Protestant nobles. Couple this with her personality, which was said to be over-bearing and unintelligent and she became very suspect to the people.
Eventually, Marie made one mistake too many when she decided Louis would marry Anne of Austria and her daughter, Elisabeth would marry Phillip IV of Spain, both countries a threat to France. After leading a rebellion of nobles against her, the ultra-Catholic, Prince de Conde, forced a treaty with her which included a meeting of the Estates General, an assembly of the 3 levels of French society, the clergy, the nobility and the commoners or Third Estate. The Estates General (États-Généraux) started as an advisory counsel to the King as far back as the 13th century but never became an actual institution. At this meeting, Conde would purportedly be fighting to free Louis from bad counsel which included Marie's favorites, Concino Concini and his wife, Leonora Galigaii. That being said, it was also an opportunity to bully her into rescinding the reduction of the noble's stipends.
While the noble's returned to their province's to arm themselves, officials began looking for people to represent their section of the estates. Like today, the common people were represented by privileged civil servants such as lawyers, except in this case, their positions could be purchased. Naturally, Conde opposed this along with the clergy. The Third Estate, complained about their eternal lot of over-burdening tax and the noble's pension and yet, they believed that royal sovereignty should be upheld.
Within the clergy, elections were held in which Richelieu remained moderate and with the backing of his supporter, the Bishop of Poitiers, was chosen to give the closing speech for the clergy at the Estate. He had previously written a letter to Concini declaring his loyalty to the crown . After his speech which included a statement speaking to the toleration of the Protestants as being harmful to the God that had given the King his power, the Queen regent decided to promote him. She was going ahead with the Spanish marriages of her children.
Richelieu was visiting the court when Elisabeth became ill with smallpox. Richelieu was asked to stay behind with her as the wedding party traveled to Bordeaux. When the two finally caught up with the wedding party, the Queen was impressed enough to reward Richelieu with the position of chaplain to Anne of Austria, Louis' new wife. In 1616, he sided with the Concini's that Marie should not re-appoint her old ministers and was granted the position of Counseillor d'Etat or adviser to the Crown. The dreamed of pied- a -terre suddenly became a reality as Richelieu rose in favor with the royal court and the clergy.
Conde refused to return to court even after the treaty so the Queen sent Richelieu to speak with him. This brought Conde back but it wasn't long until he started to cause trouble. He, being second in line to the throne, had a vested interest in stirring up public opinion. After spreading sedition against Concini, he was lured to the court, arrested and thrown into the Bastille. The public started to riot at this breach of protocol and sacked Concini's house. Richelieu was sent to quiet the Duc de Nevers who took up for Conde but with little success. Shortly after, Marie looking for new support, made him secretary of state and then of the military. We now start to see some of Richelieu's determination and character not to say the least of his energy.
Missives began to fly to all corners of France and Europe committing to a neutral stance on religious politics, commencing his life-long attempts to unite the country. Soon though, things began to get out of control with another military uprising in the northeast. The complaints from nobility remained the same, the Italians at court, lack of funds to the nobility, no response to the issues raised at the Estates General. This time though, Marie was not to be bought off. She offered her withdrawal from affairs of state but refused Richelieu's offer. Here too, we see the other side of Richelieu's character, that chameleon shade as he agrees to keep Louis informed of court activities.
Louis, now almost of age had formed a huge resentment to the treatment of his mother and her favorites. He began secret meetings to discuss the future of Concini and the effect he had on court. He was an insolent, braggart who generally ignored the King. On April 24, 1617 the matter was solved when Concini was mysteriously shot in the courtyard of the Louvre.
What happened next was too extreme to be believed, unless you know of the French standards of the day. Concini was quickly buried only to be dug up by a mob and his body dragged through the streets to the Pont Neuf, the new bridge so recently built by the late king. There, after being hung by the feet he was brutally dismembered (genitals cut off among other things), then dragged through the streets and burned. His bones and ashes then thrown into the river.
It happens that Richelieu was crossing the bridge that day. By some miracle he was able to cross after shouting his allegiance to the king. There is no need to wonder what could have happened if they had known he had been in consort with the dead man.
Main sources: Eminence: Cardinal Richelieu and the Rise of France, Jean Vincent Blanchard, The Bourbon Kings, Desmond Seward
A Flash of Scarlet Part V
Louis XIII was certainly not the man his father was except perhaps in matters of war. He was a sensitive child who had been born with a double row of teeth. The constant beatings bestowed on him by his tutor and the favoritism shown to his brother, Gaston, made him into a rather melancholy person who would much rather be out hunting than enduring the pressures of court. Henry had engaged Charles d'Albert de Luynes to teach Louis the hunt, in particular the art of fowling. Louis grew attached to Luynes, perhaps finding the friend he had longed for, someone who shared his interests, a "favorite".
Although Louis had come of age in 1614, his mother kept a tight hand on the reigns of the kingdom, many of her policies, aided by Concini, had set the country in turmoil. She had reversed Henry IV's anti-Spanish policy, squandered France's fortunes and bowed to the demands of the nobles. When it seemed that she was gaining too much power along with her favorite, Concini, Luynes had him assassinated. How strong of an influence Luynes had on Louis' decisions at this time, one cannot say but at that point, Louis seemed to "come into his own". He did stand on a billiard table and shout to Richelieu that he was "finally free of him".
Marie was exiled to Blois with Richelieu who immediately sent an ingratiating letter to the King stating that he would inform the King of activities at Blois. Soon after, Henri du Plessis , who was still serving the court, came to Richelieu with news that the King was contemplating sending him away from Blois. The letter had obviously not impressed Louis in the way he hoped but rather, showed that Richelieu could not be trusted. He decided to make for Coussay, a manor he owned from which he was promptly commanded by the King to not remove himself. Then he was sent back to Lucon, to again take up his duties of Bishop. Ever industrious, he wrote "A Defense of the Principal Articles of the Catholic Faith", a book preaching obedience to the King.
This was not enough by any margin, though and one may count this time as one of the lowest points in his life. 5 months later, he was sent from Lucon to Avignon along with his brother Henri and his brother-in-law, Francois de Pontcourlay. A search was made for documents to incriminate Richelieu but none were found. Then Francoise his sister died in labour and her child soon after. Richelieu cancelled the lease on his house and wrote a directive regarding his belongings and burial.
In the meantime, Marie plotted her way out of Blois and made a daring escape to the Chateau Loches in Angouleme. From there she sent a message to Louis saying that she was prepared to make war for his own sake and that Luynes had been a bad influence on him. Then a letter was sent to Richelieu to join her in Angouleme. Louis retaliated to his mother's threat by stating that he was not afraid of going to war. Richelieu was called to mediate a peace and called for the designation of "safe places". As part of the "Peace of Angouleme, the Duc d'Epernon, who had helped Marie escape was pardoned and a date for the Queen's return to Paris was set.
Richelieu's return to court was not applauded by most of Marie's courtiers and that eventually led to Henri du Plessis being challenged to a dual by the Marquis de Themines. It was over in an instant. Henri was dead along with the male line in the family.
The reconciliation between mother and son was of little significance however, as rebellion began to swirl around the Queen mother who refused to return to Paris. Many who saw this as an opportunity to rise themselves, began to congregate around her. Along with Gaston, Louis' own brother, she headed a revolt of the nobles which was soon put down by the KIng. Again, Richelieu mediated the Peace of Angers between mother and son which allowed Marie to take up residence at Angers.
Luynes, who had his own agenda in all of this, including the execution of Leonora Galigai, Concini's wife, as accomplice to his crimes. He would gain all her possessions on her death. She was beheaded in 1617 for crimes against the King. Marie would be devastated by this, she had grown up with Leonora and the gulf would widen between her and her son, another court intrigue.
One can see here the predicament Richelieu found himself in during these times, (1616-1621), holding his post as Marie's adviser without offending the King and ruining his prospects. His quick thinking while gathering troops for the Queen did indeed raise him in her esteem and she pushed for his rise to Cardinal. Louis on the other hand was still suspect of Richelieu and in fact sent a missive to the Pope asking for an adjournment to the promotion. Not to be daunted, Richelieu took this disappointment and endeavored to help Marie regain the rights she had as the King's mother. Soon the opportunity that war provides would be upon them and bring the cloak of scarlet with it.
A Flash of Scarlet Part VI
Being implicated in the coup Marie de Medici had attempted against her son, things did not look favorable for Richelieu. No one, not even the Capuchin friar, Tremblay, could persuade Louis to allow him back at court. At this point Richelieu again donning a submissive pose, asked the King to name a place of exile and he was sent to Avignon. During the year he spent there, he wrote the famous catechism, "Instruction du Chretien"which would be read across the country every Sunday at mass. Marie, ever dependent on Richelieu, continued to push for the post of Cardinal which was granted in 1622. The King having returned from war, presented the red biretta at a ball in Lyon. Thence Richelieu would be dressed ceremonially as such; a Prince of the Church.
The scarlet color represented the willingness to shed your blood for Christ, although Richelieu stated that the color he now wore would always remind him of the vow he took to shed his blood in the service of the Queen (Marie). The "cappa magna" or great cape had a very long train on it (as in a bride's train) which had to be carried, quiet magnificent.
He maintained his post at the head of Marie de Medici's household which enabled him to provide well for the members of his family. He continued to be protector of the Sorbonne and acquired the land and manor of the family home. Louis was unable to find a First Minister who could control the royal finances at the time and after the then Minister, Le Vieuville asked that Richelieu be appointed in an advisory capacity to the council, Richelieu refused. After some thought, Louis realized that something had to be done. Le Vieuville was arrested for disrespecting the king's authority and the people of France welcomed someone they felt they could trust because he was a religious man. They were worn down from years of poverty and war just as Richelieu was worn down from his long and uncertain climb to the top . His problems with migraines still persisted. The King was a somewhat enigmatic character who could just as soon go riding off into the forests on extreme hunting forays as go to war. The nobles were still out of control and violence prone, dueling was a major cause of death at the time and the aristocracy was always looking for ways to tap the King's fortunes for themselves. The Protestants were agitating the people for religious reform and the country was surrounded by Habsburg powers , in particular Spain, whose fortunes by now were dwindling. Had Richelieu learned enough to prove himself to the King and people?
A Flash of Scarlet Part VII
When Louis' sister, Henriette Marie was married to Charles I of England creating an alliance that left Spain without an ally, Richelieu took his opportunity to gain control of the Valtellina. It is a valley in Northern Italy which borders on Switzerland. During the 17th century, it was under control of the Grey Leagues or "Grissons", Swiss Protestants. It's passes provided a strategic route through Italy to Germany and a means to control the encroaching Habsburgs. Richelieu knew that Spain would be sending a large part of it's military to fight the Dutch and seeing this weakened position, offered subsidy to the Dutch. He then reached out to Germans of all faiths to challenge the powerful Habsburgs. This support of Protestant factions did not sit well with many and pamphlets flew everywhere in protest. Below, the beautiful and expansive Valtellina in Northern Italy.
After her return to court, Marie de Medici built the "Palais du Luxembourg". Richelieu decided he would have a reception there to celebrate his new status. Among the guests were the Duc and Duchess de Chevreuse. The Duchess, formerly the widow of Luynes, intrigued to bring the handsome George Villiers, Duke of Buckingham and the neglected Queen Anne together. The Cardinal not only put an end to this but terminated any prospective alliance with England over the affair.
Then, later in 1626, German soldiers marched through the Valtellina in spite of the French presence there. The Spanish had decided to threaten commerce between the northern Baltic cities and the North Sea, including the Dutch at which Denmark declared war. After consulting with the Dutch and the Danes , Buckingham requested military help from France and to to be allowed to visit for talks. Richelieu rejected his request. Then the protestant Benjamin de Rohan, who had defended St. Jean d'Angley against the King, started to raid the Atlantic coast but escaped to England when he was chased off.
Richelieu realized that any move against Spain would be protested by the Protestants in France since Spain was supporting them and that would weaken the country. In 1626, a peace agreement was signed with the Protestants and then the Spanish. This perceived turn around by Richelieu caused much upset. He just simply blamed Louis's ambassador for overstepping and awaited opportunity.
A Flash of Scarlet Part VIII
When Richelieu took power as Chief Minister, he had inherited a state in turmoil. His campaign in favor of the Swiss Protestants and opposition to Catholic Spain and Rome, enraged the citizens and the Church. The Huguenots, dissatisfied with the Treaty of Montpellier, broke into rebellion. That treaty required them, in exchange for religious toleration, to destroy their fortifications and to cease all assemblies other than religious. The only "places des surite" left to them were La Rochelle and Montauban. The Duc de Rohan, their leader was deprived of his provincial governments and Fort Louis had not been torn down at the harbor entrance as promised.
Henri and Benjamin Rohan, labeled by Richelieu as "les freres antichristi", were the only remaining Protestant leaders of the Huguenot party. Benjamin, the more aggressive of the two, had seized the Isles of Re and Orleron and escaped with three ships which were in the harbor. Benjamin did have a reputation for piracy. The money that had provided the ships had come from Spain. He then moved up the coast to Brittany where there were now 6 French battleships in Port St. Louis. Five had been borrowed from the Duc de Nevers, including the great battleship the Vierge, with it's eighty guns. Benjamin, (known as Soubise) after taking the town and castle, left with four of the borrowed ships. From Oleron, he terrorized the merchant ships coming in and then joined his brother who had already set Languedoc ablaze.
Richelieu's diplomacy gained him support from England and Holland who both sent ships to his aide. These combined with a small fleet of French ships, won back Re and Oleron and dispersed Soubise's ships. Here Richelieu held his hand because there was a wedding to plan that would ally England to France when Henriette Marie, Louis' younger sister, would marry Charles I of England.
A Flash of Scarlet Part IX
"Broken faith, false promises, secret intrigues and plain trickeries", these are some of the words used to describe the Treaty of Monzon implemented by Cardinal Richelieu in 1626. At stake, control over the Vallentine valley a passage valued by the Spanish in connecting them to their allies the Austrians, both enemies of France and part of the encroaching Hapsburg powers. Richelieu was determined to keep France in control of her own destiny and would do what needed to be done, not an easy task.
Marie de Medici, the queen mother and her court were incensed at his alliances with Protestant countries as well as their loss of power over the King. Their influence over the Catholic community caused the negotiations to stall out several times before Richelieu finally prevailed. England had almost forced the Huguenots to an unprofitable peace with Louis XIII and Charles I had married Henrietta Marie. The Duke of Savoy had not even been considered. The Grisons had been granted control over the valley but only Roman Catholicism would be allowed and the people could elect their own magistrates. They however, had to pay the Grisons an annual tribute. The forts in the valley had to be razed weakening the protection of Venice. Richelieu worked at an appeasement for them afterwards.
With this new peace, the Cardinal set out to accomplish some of the plans he had made. He called an assembly of Notables, princes, archbishops crown officers, presidents of the law courts and the provost of the merchants of Paris. They were invited to advise the King, within certain confines of course. With this they gave their consent to Richelieu's plans. His most popular measure was the building of a navy. With Michel de Marillac at their head, the Notables voted for the purchase of forty-five battleships. The resources were available in France, she would no longer be a victim of piracy or the loss of fishing rights.
Richelieu had purchased the Duc de Montmorency's post and created the new office of Grand Master and Superintendent-General of Navigation and Commerce. He had also abolished the old office of Constable of France when the Duc de Lesdiguerres died in 1626 and created the office of the War Minister for himself. In spite of all this, his poor health still plagued him with unpredictable migraines which would often force him to take leave in the country. His life was constantly under threat.
One of the plots to depose Richelieu involved Henri de Tallyrand de Perigord a young man from a very old and noble family. Like many of that time, he was young and hot-headed. He served under Louis XIII at the Siege of Montauban and became the King's favorite and head of his wardrobe. He was taken in by a group headed by Marie de Rohan (Duchess of Chevreuse), Gaston, the King's brother and Queen Anne herself who wanted to stop the marriage Richelieu had planned for Gaston to Madame de Montpensier. Each person involved had their own reason for plotting against the Cardinal. Chalais and his group would pay a surprise visit to Richelieu at Fontainbleau and say they were making way for Gaston to visit. A brawl would be provoked and the Cardinal would be stabbed by accident. The group had also tried to draw in other European countries which could result in war.
Unfortunately Chalais had told a relative about the plan who then made him report it to Richelieu. The group unaware of this travelled to Richelieu's house where he left them without an explanation and then rushed to Fontainebleau where Gaston stayed. In the morning he awoke to Richelieu standing over him, handing him his shirt and saying that he should have given him more warning if he was going to visit so he could prepare properly.
This affair took its toll on the Cardinal causing him to send a letter to Marie de Medici saying that he could not continue in this way. At this Louis decided he must take action and replied in a letter saying that he would always stand by his First Minister under any circumstance. Evidence was found against Chalais through the Cardinal's spy network and the ensuing interrogation resulted in a charge of "lese majeste" (treason). Chalais's mother begged the King to reverse his order of beheading and quartering but he only reduced it to beheading. The group kidnapped the executioner thinking to help Chalais but he was replaced by a prisoner who was promised to have his sentence commuted. He did not sharpen his sword and only succeeded in injuring the young man. He kept hacking. The priest told him to put Chalais back on the block, then someone handed him a hatchet. It took 19 more blows to finally kill him. His mother who had been praying in a nearby church came to get his body and buried him with little ceremony.
Gaston, Louis' brother could not be executed, he was of royal blood. Instead Richelieu decided it would be best to keep him in sight. After giving him a huge amount of money for cooperating and an "appanage" or gift of the Duchies of Orleans, de Chartres and the Comt de Blois, he agreed to marry Mademoiselle de Montpensier. Madame de Chevreuse was banned from France and took refuge in Lorraine which belonged to the Hapsburgs. Queen Anne was in disgrace.
A Flash of Scarlet Part X
The Chalais conspiracy, also known as the Affair of the Dames, increased Richelieu's determination to crush the nobles and make the King supreme. To this end, he created two new edicts. The first, destroyed all feudal strongholds in Brittany and then all over France not needed for the defence of province or kingdom. Naturally, the peasant population was more than happy to help in smashing gates and tearing down walls six feet thick which had threatened their liberty for centuries, a signal perhaps of the revolution to come years later.
The other edict forbade dueling, previously ignored by the nobles who continued fighting day and night over the merest quibble. Richelieu brought royal authority forward once more. The penalty was death. In the face of this, Francois de Montmorency, Duc de Bouteville, a famed duellist who was banned from France, undertook a duel with the Baron de Beuvron. It was a triple duel and both the principals survived but one of the adversaries was killed. Beauvron escaped to England but Bouteville stopped overnight on the way to Lorraine. The dead man's mother arrested them. (note that you could make a citizen's arrest at this time). The two were brought back and imprisoned in the Bastille until a short trial took place where both were sentenced to death. At the Place de Greve amid the voices of a public outcry, the two were beheaded. Paris watched in terror and disbelief at the power and relentless action of the Cardinal.
These executions were followed by another tragedy, the death of Gaston's wife Marie de Bourbon, after childbirth. The moment had been so awaited, joyfully by Gaston and his wife and trepidatiously by the King and Queen. A boy would be heir to the throne. However, a girl was born, Anne Marie Louis, who would become the famed "Grand Mademoiselle". The death of Marie once again released the young Gaston to his wild ways. He was only nineteen years old. Louis attempted to interest him in "the hunt" but that was not to Gaston's taste, he was a Parisian. Then Louis bought Richelieu's house at Limours for him to redecorate, a favorite pastime of royalty.
About this time, the threat of war with England began to raise it's head. Richelieu had ignored the several pin-pricks thrown at him by Charles I, who was not happy with his new wife's French retinue and replaced them with people he thought were more trustworthy. The English supported the Huguenots and the Cardinal was not yet ready to deal with that situation but found himself having no choice. Many people supported the idea of war against France, in order to rid themselves of him, Buckingham had not ceased his anger and ambition and there were quarrels and piracy on both sides of the sea. Enemies rose up, both Catholic and Protestant, Soubise in England, Rohan in Languedoc, Charles of Lorraine (influenced by the crafty Madame de Chevreuse), the Duke of Savoy and the Comte de Soissons, the duchess, Isabel of the Low Countries (the Dutch Republic) was trying to get Spain on England's side. Richelieu did not trust the Spanish ambassador, Olivares. He knew an English victory would leave France divided and vulnerable against the rest of Europe.
In the winter of 1627, England prepared her ships for war, her destination, La Rochelle. The islands of Ré and Oleron were the main defenders of La Rochelle. Louise had built new forts there since the last Huguenot revolt. That allowed Richelieu to divert his attention to the massive amount of letter writing he would have to do to mobilize the coast for attack, many of which can still be read today. The peasants must not be molested, many of them neighbors from his old Luçon days, just up the coast. Some of his letters, addressed to the Rochelaise, assure them that the preparations are for their own good and that as long as they are co-operative, they will have nothing to fear. While the funerals of Bouteville and Madame were carried on in Paris, ships were sailing from Portsmouth for the French coast.
As Louis traveled down to the west coast, Gaston was appointed lieutenant-general of the armies in Poitou. Later in the year, the Prince de Condé and the Duc de Montmorency would check Henri de Rohan in Languedoc. By then, the English were blocking the Isle de Ré. The Huguenots had admitted the Duc de Soubise to the city showing their intentions although that may not have been the wish of all of her citizens. This lack of cohesiveness became a threat to the country and Richelieu, pushed on by the nihilistic Condé, was set to crush the rebels. Meanwhile, Louis had become so ill that he was forced to stop his travels to Orléans. Then he received word that the Marquis de Toiras was blockaded in on the fort of Saint-Martin by the Duke of Buckingham. This forced the Cardinal into a position he was not fully prepared for, having always worked under the King in matters of war. As he sat by Louis' bedside hour after hour, his mind raced with military matters and of how to relieve the isle from the threat of starvation.
He decided to use his own money in aid of the war and to send provisions by small boat to Ré. Then he invoked the treaty with Spain to gain aid but that country would not participate until the outcome was more assured. In October, Louis recovered and the two joined the army at La Rochelle where they were able to drive Buckingham back to England.
A Flash of Scarlet Part XI
Ironically, just days after the capitulation of La Rochelle, a great storm broke out which destroyed the moles or earthen works Richelieu had built to prevent the British from gaining access to the city. Crossing the river Loire on his way back to Paris, the Cardinal nearly drowned along with his Chancellor. At the same time, the Duc de Nevers, Charles de Gonzague, was blockaded in at the fortress of Casale in Northern Italy by Spain and Savoy. With the siege over, France would finally be free to come to his aid.
De Gonzague was one of the great nobles of France and would have been heir to the throne of Constantinople. He had been on Crusade with Pere Joseph and was distrusted by the Queen Mother who voiced her displeasure at the thought of the King marching to his aid. This was not to mention the fact that Alphonse, Richelieu's brother had been made a Cardinal in celebration of the victory against the Huguenots. The rule was that two brothers could not be cardinalized. Then France marched off to war against two Catholic countries, Spain and Austria. The Cardinal maintained his stance that the honour of France was at stake if they did not back the Duc's right as hereditary ruler of Mantua. He promised the King that the war in Mantua would be resolved by May so the issue of Rohan and the hold-out Huguenots in Languedoc could be dealt with. Again, Richelieu drew the withdrawal card and once again, Louis promised to support him in his cause. Marie was enraged.
In January, 1629, Louis marched south to join the troops that had only a short rest after La Rochelle. The Cardinal met with Conde to discuss how they would strike a final blow to the Huguenots in Languedoc. Louis decided to continue into Savoyard territory in spite of the wintry weather to capture Susa. It took one month to get to the foot of the Alps and another to scale them. Susa was at the top of a fortified gorge and though others balked at the idea of climbing to the fortress, Louis showing himself as the bold soldier he was climbed through the snow. While he was finding a way up and behind the enemy barricades, the main body of the army drove straight at the enemy. The royal musketeers scaled the walls and drove them back down and towards Susa. After that, with his usual energy and speed, Richelieu relieved Casale. Below, what Louis XIII may have been looking at as he approached the Alps.
It did not take long to take Languedoc, though Rohan had made an agreement with Spain to keep up the rebellion. The Huguenots did not have a regular army. The royal army over ran the area, destroying crops and driving the people into the mountains. The small stronghold of Privas insisted that their commander St. André de Montbrun should make terms with the King but Louis emphatically refused. The surrender must be unconditional. The troops entered and sacked the town during which time a terrible fire broke out.
Louis' character required him to hang the commander but his hand was stayed by Richlieu. He could be surprisingly humane once he had achieved his goals. Though he was ill at the time, the Cardinal rode to meet the inhabitants and placed twelve young girls in the care of the Dame de Chateau d'Autremont. He was presented with an infant who was found in his dead mother's arms whom he found a nurse for. He ordered the child be called "Fortunat Privas". Compared to the other atrocities in Germany through the Thirty Years war, this was quite exceptional.
A Flash of Scarlet Part XII
In spite of the Queen mother's rage at Richelieu's actions during the spring campaign, Louis honoured him with the new rank of chief minister of State. This was not too soon as the Duke of Mantua found himself once again under siege by the Emperor Ferdinand of Austria, the Holy Roman Emperor. Ferdinand had defeated the northern Protestants and now swung back to regain lost territory. Again, the Grisons suffered as his army swept across to Mantua and could offer little resistance. Casale was again regained by Spain. Champagne in eastern France was being threatened by Ferdinand's armies. In spite of misgivings, Richelieu placed Marillac, a suspected enemy and the King's brother, Gaston in command of the defence of the kingdom.
Richelieu was now at the apex of his power, Louis had granted him the post of Lieutenant-General de la Monts which made him supreme commander and the King's representative in all political and military matters. He was the man to use those powers brilliantly and decisively. As part of the Treaty of Susa, Savoy was obligated to defend Mantua should she come under attack again. Instead of openly breaking the treaty, he used all his powers to hinder the progress of the French army. At the same time, some things went in France's favour. Plague, fever and flood forced the Spanish to retire from Mantua while Casale continued to hold. The Pope attempted to bring about peace talks but again, Savoy created endless difficulties about the terms for allowing the French through Savoy to gain Montferrat.
Richelieu waited no longer, he swept his army over the Alps to Susa while it was still under French control and set up his headquarters. Charles Emmanuel, the Duke of Savoy holding the area between the French and Spanish armies, continued to play both sides. While Richelieu set up camp he was plotting with Spain to close the passes behind the French army and delayed supplies purchased by France for Casale. In a moment, Richelieu turned his army not towards Casale to relieve her but straight towards the Savoyards themselves which sent them running back to Turin. The army slogged on through early winter weather, crossing swollen rivers and enduring rain and sleet. Richelieu rode at its head surrounded by guards. The men cursed him as they followed him into Rivoli but were well rewarded by Savoy's fire and wine.
Knowing that he would be leaving his rear flank open if he proceeded against Spain and Austria, he decided on another decisive move. He would block the gateway passes between Dauphine and Piedmont. France would hold the keys to Italy. In May, Richelieu met Louis at Grenoble where together, they conquered Savoy. The Duke of Savoy later died of despair at the loss of his kingdom. Mantua had been sacked by the Emperor's troops, it's treasures and the beautiful Gonzaga palace destroyed.
The King and Richelieu continued sending troops to reinforce Pinerolo. Louis' Italian armies joined with the French troops but disease weakened them. The Duke of Savoy's son, married to Madame Christine of France, decided it would be wise to ally with France which allowed peace negotiations to continue . The chief agents in them were who else but Pere Joseph, Richelieu's old friend and an Italian diplomat who served the Pope, one we would hear about in the future, Gulio Mazarani, a young man destined to succeed the Cardinal.
In late October of 1629, The Austrians and Spaniards withdrew from the war, Mantua was returned to Savoy and Casale was relieved. The Cardinal had triumphed but he must still return to France and the danger that awaited him there.
A Flash of Scarlet Part XIII
When the war ended in August of 1630, Richelieu hearing that the King was gravely ill, rushed to Lyon. Louis suffered from fever and dysentery so commonly caught in the hot, swampy areas of France. By the time Richelieu arrived, Louis had been bled seven times and given the Last Rites of the Catholic church. His brother Gaston, next in line for the throne was quickly summoned and the court waited with bated breath to see the final over-throw of the hated Cardinal. Once again, Richelieu was on the precipice.
The Queen mother waited to give the signal for his arrest as an enemy of the State, the person who had blocked her ambitions. Louis summoned the Duc de Montmorency and commended the Cardinal to his protection in Languedoc. No sooner had he done this than an internal abscess burst. It was his mother and Queen Anne who nursed him and tried to bring him under their influence. Louis was swayed in so far as he made an agreement that he would consider ending the Cardinal's career once the Italian campaign was over.
The war did end and Marie threw a great celebration not for the end of the war but to celebrate the imminent downfall of her enemy. To her surprise, the King, now recovered was reconsidering his position with the man whose brilliance had turned the tide. He assured Marie of the Cardinal's loyalty. She was asked to reconcile with Richelieu and attend the royal Council as usual. Marie agreed and as a show of confidence invited the Cardinal's niece back into her employment from which she had been cast, all this just a ruse. She seethed with rage at the news of Richelieu's alliance with the King of Sweden, a Protestant. Madame de Combalet, the Cardinal's niece, a reserved and sensitive girl returned for her re-appointment and was met with such a berating that she fled the chamber in tears. Still, Marie promised Louis that she would honour her commitment to reconciling with the Cardinal but it took only a few minutes after his appearance for her to explode into a torrent of epithets. He was a knave and a traitor to his King and country. She would never sit at council with him again. Richelieu left.
Marie brought every pressure to bear on her son, a son who was easily confused by scenes such as these. At the hunt, he was strong and bold but in these situations he teetered on the brink of childishness. Reminded by his aide de chambre, Saint-Simon that he was after all master of the kingdom, Louis started to regain his composure and determined to put matters right. He returned to the Luxembourg, Marie's splendid palace, where she again attempted to persuade him to release Richelieu's ministers and replace them with hers. In the meantime the Cardinal himself arrived at the Palace. Finding all the doors locked to the chamber,he routed himself through a secret passage and entered . The King was surprised but Marie upon seeing him lost no time in attacking him once more. At this, he reverted to his prime tactic of propitiation and tears, asking to be sent to retirement. The King seemed to accept this and Richelieu returned to the Petite Luxembourg distraught, his dismissal could mean exile at the least and death at the worst. Louis appointed the two Marillac brothers as his mother had said and then left for the hunting lodge, his place of refuge.
At word of the Cardinal's downfall, Paris breathed a sigh of relief. What ever good he had done had been counteracted by acts of tyranny. To build the Palais Cardinal, he had displaced people and their livelihoods. The Luxembourg was soon surrounded by a crowd grateful to the Queen Mother. Couriers were sent all over Europe and her return to power was celebrated with Queen Anne and Monsieur, the King's brother.
While the Cardinal sat in despair, some of the more conscientious men of the court, decided that Richelieu should follow the King to Versailles on the pretext of saying good-bye. When he arrived there was a long conversation with Louis during which their devotion to each other was re-established, again each man realizing the critical role played in the other's life. The announcement was made with great joy to the attending courtiers, then letters began to fly once more. A letter of appreciation and devotion to Louis and one to his family telling them that although their services would no longer be needed, not to blame Louis. Another letter to the garrulous old soldier, Amador de la Porte, his uncle, not to attack the queen verbally as he still owed her his entry into court. Several arrests followed as Marie's followers were displaced by Richelieu's men. Louis had stated that he would find a way to deal with his mother and overcome the influence of her followers. It would not take long for the Cardinal to deal with them in his own way.
A Flash of Scarlet Part XIV
It did not take Richelieu long to deal with his enemies. Within months many had been exiled, imprisoned or put to death. Mother and son however were not to be so easily defeated. In spite of promised reconciliation, Gaston led on by his followers confronted Richelieu berating him for his treatment of a women who had once given him the very opportunity to rise. It was only the Cardinal's red cloak that protected him from the punishment that was due to him. As was his way, the cardinal listened silently while he accompanied the irate prince to his carriage . Richelieu did not doubt the murderous intent of Gaston's followers. Hearing of this, Louis rushed to his side. For the next while, Gaston spent his time in Orleans trying to incite a rebellion against the King and his minister. He knew it was a matter of time before the Cardinal would banish him and with that fled to Lorraine in self-imposed exile. Royalty and the court were seldom put to death.
Richelieu knew better than to trust the Queen mother though he kept up the appearance of due respect. In February, Carnival arrived, a time for hunting and celebrating. Marie would not be left behind, leaving the King under the influence of the Cardinal. During this time, Louis made a futile attempt to soften his mother's attitude towards his first minister. When Marie would not be swayed in her opinion, he realized that there was no option but to exile her before more trouble arose at court.
The next morning under the pretext of going hunting, Louis and Richelieu rode for Paris. The King left apologies and farewells to his mother but would never see her again. He also left a letter behind asking Marie to retire to Moulins and maintain her honour as governor of the Bourbonnais. In short, she was no longer welcome at Court. Queen Anne brought her the news before she left to follow Louis . Both women, tearfully realized their defeat at the hand's of the Cardinal.
Marie, obstinate creature that she was, refused to run off to Moulins, citing ever ridiculous excuses for not leaving Compegne. Finally, Louis realized she would not move without some coercion. One by one, her friends disappeared. Her physician, Vautier and Bossompierre were thrown into the Bastille. De Guise for intriguing with Gaston was forced to flee to Italy where he would live out his days. The great ladies of the Court were ordered to return to their estates. The Queen mother's closest friend, the Princess de Conti, returned to Eu where she reputedly died of a broken heart after being separated from Bassompierre, her lover.
When Marie heard that she was to be forcibly removed from Compegne by the royal army, she once again proved herself a worthy opponent by planning another escape similar to Blois. She fled the Chateau on foot to meet with a coach and team in the forest. From there she would meet Monsieur de Vardes at La Capelle in Picardy and take shelter. Richelieu, with his network of spies, soon heard of this and sent the man's father to close the gates ahead of time. Marie had no alternative but to flee cross country to the Archduchess Isabel in Artois. Richilieu's triumph over her would signal the slow decline of the Queen.
A Flash of Scarlet Part XV
With the removal of the Queen mother, many new honours were placed upon the Cardinal's head. He had the title of Eminence bestowed by Urban VIII, coadjutor of the Abbot of Cluny which increased his holdings and the opportunity to further the cause of the counter Reformation, a personal dream of his. In September 1631, the King created him Duc de Richelieu and a peer of France which allowed him a seat in Parliament. From that point on he was known as "Cardinal-Duc". He became Governor of Brittany while his friends took the fortified towns of the north. Letters of Venetian nobility were given which he might pass to any of his family members. He had become nearly as powerful as the King himself.
One of the scandals of Richelieu's time in power surrounded his reaction to the Marillac brothers, whom Richelieu regarded as enemies of the State. They came from a distinguished and "devot" (ultra Catholic) family. Michel, the elder, was a man of many accomplishments and had sat on the King's counsel. He was responsible for creating the "Code Michaud" which reformed legislation and was adopted by the Estates General in 1614 and the Assemblies of Notables in 1617-26. He was also Keeper of the Seals until he was implicated in Marie de Medici's plots to overthrow the King. After the Day of the Dupes, he was arrested and died in prison shortly after the death of his brother, Louis.
Louis had been made Marshall of the army that fought in the War of the Mantuan Succession. Here we see Richelieu's extreme in matters of state as he forced the trial of Louis Marillac under charges of "peculation and oppression" when governor of Verdun. Parliament refused to bring Marillac to trial for committing "sins that were common to his time and trade". The trial dragged on. No one wanted to execute a good and loyal soldier. Eventually, Richelieu formed his own commission which, against public outcry, condemned the soldier to death. He was beheaded at the Place de Greves on May 2, 1632. His epitaph read "….this illustrious victim of a powerful and vindictive minister". His wife, Catherine de Medici, died of grief a few months later. Twelve years later, the Parliament of Paris acquitted Louis Marillac of the crimes which he suffered for.
The other illustrious head that would become victim of "raison d'etat" was that of Henri de Montmorency. His story exemplifies the struggle between nobility and the state. Henri was born into a very old and very noble family, a family descended in an unbroken line from the time of the first King of the Franks, Clovis. As a child, he was the godson of Henri IV and the darling of the court. His was a bright and affable personality, certainly the opposite of Louis XIII and 6 years older. Never the less, at seventeen, he was made Grand Admiral of France.
His list of military services under the King was impressive. He was present at the sieges of Montauban and Montpellier, led the navy in relieving the King during the 1625 civil war, defeated the Protestants against Henri de Rohan in Languedoc, fought the Spanish in Piedmont, Italy and raised the siege of Casale. For this, he was given the title of Marshall of France.
He was also Governor of Languedoc, a province with the ancient right of autonomy over taxes and a Protestant stronghold. Richelieu had issued a central edict for taxation which the people felt was a violation of their rights and further stirred hatred towards him. As time passed with no resolution to the problem, the people began to realize that they were being stalled by Richelieu and that the matter would be ended with a swift and terrible reprisal on his part. At this, Montmorency read out a manifesto which Gaston had written, calling the people to rise, not against the King but against the tyrant who the cause of so much suffering.
The summer of 1632 saw Montmorency sign a declaration of support for the nobles of Languedoc but before he had time to prepare to meet the King's army, Gaston rode in with an ill-disciplined and unpaid army. In the meanwhile, Richelieu had once again taken swift action and sent two armies to hem Languedoc in from the east and west. While the other nobles of that province refused to take orders from Montmorency, the Cardinal's troops grew ever closer to Castlenaudry until in despair, Montmorency rode to go out to face them. Gaston's troops fell apart hearing of the approach and were quickly routed.
While many of the mercenaries fled, the good soldiers threw themselves with Montmorency, into battle, some of them losing their lives. Among them, Antoine de Bourbon, a son of Henri IV, therefore half-brother of the King. The Duke had gone to Antoine's support as the men took flight in front of the King's troops. The way was commanded by the Royal Musketeers who shot his horse out from under him. He was wounded and captured.
Gaston was the King's brother, therefore he could not be punished in the same way that an ordinary subject would have been. He was spoiled and petulant, demanding money, the return of the Queen and amnesty for Montmorency. The Cardinal knew better than to trust Gaston and sent him in exile to Touraine with his nobles. Montmorency however, did not fare as well. After two months being imprisoned at castle Lectoure, he was brought to Toulouse to be tried for treason. Richelieu's policy was to make an example of the high for the good of the state which must be united under the King. While all the country and the nobility pleaded "miseracorde" for the great soldier, Richelieu though moved, was kept to his course by Pere Joseph, his trusted advisor. No one must again ever think of uniting under Gaston in rebellion again.
On October 30, 1632, the same day as his trial, Henri, Duc de Montmorency was beheaded, to the great sorrow and anguish of France. In his will, he left a beautiful St. Sebastian painting to the Cardinal. Hearing the news, Gaston once more took flight across France to Brussels. Would the swift and terrible justice of the Cardinal be enough to check him?
A Flash of Scarlet Part XVI
Not long after the execution of Henri de Montmorency, the Cardinal once again fell ill, this time for 3 months. It is not hard to imagine succumbing to the stress and hatred that surrounded him. On his way from Toulouse to Bordeaux where he was to escort the Queen, he received news that the loyal Maréchal de Schomberg, rescuer of Toiras and defeater of Buckingham had died of apoplexy. Then, Gustavus Adolphus was killed at the Battle of Lutzen, weakening the Protestant alliance with France. The Cardinal worsened, giving a "cause de celebre" to his many enemies among them, Madame de Chevreuse who openly planned her position next to the Queen. Once again with terrific strength of will, the Cardinal recovered and meted out a terrible vengeance. Chevreuse was exiled from court while her partner, Monsieur de Chateauneuf was disgraced and in prison from whence we know few people escaped alive. The King rushed from Paris and celebrated with the Court, the seemingly miraculous recovery.
Again, Richelieu continued to exercise his wealth and creativity by purchasing more land and refurbishing the many country houses he owned, among them, Rueil, Limours and Bois-le-Vicomte. He felt limited by the Palais Cardinal which he had purposely built so that it would not out-shine the King's palace. He then purchased his family home of Richelieu and the former lands of the Montpensier family, their neighbours. The old chateau was torn down and its former outbuildings used to create the chateau of today. He was not given permission by the Pope to tear down the chapel, however. There is little left of the Chateau de Richelieu started in 1625 and finished in 1633, once thought to be surpassed in beauty only by Fontanbleau.
The Cardinal naturally extended the decor to include the many artistic treasures he had accumulated over the years. Figures of mythological statues filled the gateways and from the ruined House of Montmorency, the famous Slaves of Michel Angelo stood near a variegated marble stairway. He wished for his officers and nobles, to build a town where they could stay when attending court and this soon rose up. While war with Gaston d'Orleans drew ever nearer, he focused on acquiring new paintings and statues. Here are some of the remaining parts of a town that the Cardinal never actually visited in spite of 8 years creating it and a link to the actual town today.
Paris was the place Richelieu spent his remaining years, at the Palais -Cardinal completed in 1634. There he lived in almost royal splendor. Allegorical paintings of his life made of mosaic were embedded into gold ceilings. Paintings by famous artists, among them, Phillipe de Champagne who painted the now famous portraits of the Cardinal. The palace was filled with art treasures from all over Europe, the gardens clipped and formal.
Richelieu's charity was spread widely between his household pages who received the same training as royalty to the sick and poor of the streets. A number of gentlemen waited on him constantly and he had 5 private secretaries ( this often leading to academic confusion over what he actually wrote himself). Among them were the Prieur des Roches, Charpentier, Chéré, Mulot, Rossignol and at times, his private physician, Monsieur Citoys. Pere Joseph and his Capuchin clerks controlled an army of spies at home and abroad. Among his most confidential counsellors were the Bouthilliers and Monsieur de Noyers and Leffamas, head of the Paris police brought him reports of enemies. Jules Mazarin, later to become his successor became his most trusted diplomat. His aides-de-camp were the Cardinal de la Valette, the Archbishop of Bordeaux. The Marquise de Brézé and Marquis de la Meilleraye were created Marshalls of France. He had an army of pamphleteers and writers working under him the most well-known was Renaudot who founded the Gazette de France under the Cardinal. When he traveled, 12 instruments traveled with him along with a force of guards which included 200 musketeers, one hundred horse and a troop of gendarmes. These were quartered in and around the palace.
A normal day, when he was not ill, would begin at eight in the morning and end at eleven, after which he would sleep only for a few hours before his restless mind would cause him to commence writing. At dawn he would sleep for a few more hours and then rose to greet the King's ministers. After hearing mass he would give an audience to anyone who wanted to see him until midday. After midday dinner, he would see the King and receive his ambassadors or attend public events. In the evening, he might stroll in his gardens, chatting with a friend until evening prayers.
Naturally, at court he was not always popular with his enemies or with women although it has been said that he at least attempted to be agreeable to them. Whether the rumours of him having a mistress are true or not would have to be proven. It is certain that affairs of state would take up a good part of his time. He is said to have been rebuffed by both Queen Anne and Madame de Chevreuse. Never the less, he could be found in the company of women at many social occasions. He was on the most affectionate terms with his niece, Marie Madeleine de Vignerot, daughter of his sister Francoise. The Cardinal attempted to arrange many marriages for her but none of them came to fruition. Still she had a powerful place at court as Duchess d'Aiguillon and was close friends with the Princess de Conde and Mademoiselle d'Angennes. She became the main figure at his entertainments.
Richelieu, who loved drama and the ballet had two theatres built at the Palais Cardinal one of which in 1641 hosted the famed play "Mirame" of which he wrote the greater part. It was performed in a theatre which could hold 3,000 people. The scenery was imported from Italy by Mazarin, now Richelieu's right hand . It was considered an innovation of the day with mechanical moving parts, which we find charming today. Some critics did not like it and some compared the story line to the affair between Queen Anne and Buckingham. A few disreputables had been invited which upset the King but the play was a resounding success. In the end, the Queen passed on a golden bridge drawn by peacocks to a silver throne behind the curtain from where she presided over a grand ball at the end of the evening. Richelieu had accomplished what he had set out to do, make himself acceptable to French society.
A Flash of Scarlet Part XVII
Richelieu did indeed have great ambitions for himself and for France, these naturally involving the annexing of more and more territory. To this end, he would employ historians to research France's ancient rights to the crown and give just cause to his ambitions. Add to this the perennial fact that France was surrounded by the Hapsburg dynasty creating a situation requiring constant vigil.
The Duchy of Lorraine, in northeastern France, was always a mix of German and French culture and gained great wealth and independence by her relations with the surrounding countries, always being able to gain allies from one or the other. The Duke of Lorraine, Charles IV, who had also been influenced by Gaston d"Orleans against Richelieu, refused to pay his homage for the duchy of Bar. In the summer of 1633, Louis XIII and the Cardinal marched to Lorraine to confiscate the duchy.
The Duke Charles' sister, Marguerite, had been married to Gaston, Louis' brother, in secret without the King's permission. Charles now offered an annulment of the marriage by way of concession as well as offering his brother, Cardinal Nicholas-Francois as an alliance for Richelieu's niece, Madame de Combalet. Richelieu refused stating instead that he would accept only the capital city, Nancy and that Marguerite should be placed in the King's care.
Charles would never accept the surrender of Nancy. The city was placed under siege during which time Marguerite escaped and found her way back to Gaston and the Queen mother where the marriage was legitimized by the Archbishop of Malines. Marguerite was now the Duchess of Orléans. Once again, Monsieur, as Gaston was known, defied his brother, the King. This situation did not perturb the Cardinal but the Duke had provided him with sufficient reason to carry out his plan for reconquering Lorraine. Assistance from the Duke's Spanish allies had been checked by the Protestants, he had lost his sister and Richelieu had set up a parliament in Metz. When the King and Richelieu left Lorraine garrisoned by French troops, Charles left Lorraine in his brother's hands while he joined the army under the Holy Roman Emperor.
While at Metz, several attempts were made on Richelieu's life by assassins sent by Marie de Medici's advisors, his life saved by the vast network of spies he employed. Gaston then made a treaty with Spain to invade France with an army of generals supplied by the Dutch. To this, the Cardinal created a league of nobles who pledged themselves to preventing the accession of Gaston should Louis fall. In any event, Spanish aid did not materialize and Gaston's favorite Puylaurens began negotiations with Richelieu which themselves did not materialize. Puylaurens was implicated in the refusal of Gaston to accept the annulment of his marriage to Marguerite, this time by the French clergy. Gaston had written to the Pope refusing to accept the annullment based on the fact that it usurped the Pope's authority. Puylaurens knew this and had failed to divulge it to Richelieu with whom he was now in favour. When Richelieu discovered he was also seeking support from the Spanish again, he was exiled to Vincennes where he died, a fate shared by many of Gaston's friends. Gaston was by this time reconciled at court and though he pleaded for his friend it did little good.
With Gaston's reconciliation, Richelieu's mind turned back to the unfinished business of the war against the Hapsburg Empire. While the rest of Europe was willing to capitulate to the Holy Roman Emperor, Richelieu knew that the only security for France was to stop the encroachment of her borders. He could not leave his former allies, Sweden, Holland and Protestant Germany in a weakened state. In May, 1635, Louis formally declared war against Spain, though Phillip was his brother-in-law. Again, Richelieu changed sides, supporting the Huguenots .
In spite of protests on their part, the entire country was mobilized for war, the nobles, the clergy and the people. The clergy, whose land had been previously untaxed were now asked to pay their share of the more than one hundred million francs a year. The people ever willing, had no idea of the crush that was to come. Some would protest but to small avail. The Protestant Henri de Rohan, formerly Richelieu's enemy at La Rochelle, now commanded an army against the Duc of Lorraine and was then commissioned to re-enter the Valtelline, once more to block the road between Austria and Spain. When Richelieu failed to pay the Grisons, rightful owners of the land a promised indemnity, they turned on Rohan whereupon he left the Valtelline to help gain Alsace.
Initially, the war did not go well for France. The Dutch were not happy with being invaded again, Germany was falling into Imperialist hands, Lorraine was barely being held and the Milanese invasion had failed. Add to that the deaths of the Ducs of Savoy and Mantua, two important allies. Spain had seized the Isles of Lérins and the navy barely recovered that due to the arguing between its commanders. Imperial troops crossed the borders into Picardy and captured La Capelle and La Catelet at their head, John of Werth, a Bavarian terrorist of the day.
In the terrible heat of late July, 1636, the people of Paris cried out against the Cardinal who with the King, was sheltering in the country. She was largely undefended, her walls torn down to build his palace. He was ungrateful to the Queen mother, the war was failing and he had allied a Catholic country with heretics. Richelieu returned to Paris, once again his mind creating order out of chaos. He knew the people well, knew they were devout Catholics and called for the bishops to hold processions . The people were called to pray for their country and large gifts were made to the convents. Then he rode through the streets of Paris alone with no guards ordering all trades to assemble to give help to their King. Once again he showed himself to be master of the situations he found himself in.
The gates of Paris were locked against those trying to escape, all privileges suspended. All men capable of bearing arms had to present themselves, all non-essential commerce cease . All owners of a coach must donate one horse, all peasants to work on new fortifications of Saint-Denis. Gifts of money poured in from all corners to supply the army. When Corbie was taken near Amiens, the army advanced there under Monsieur and the Comte de Soissons. The enemy was held in check at the Somme until all danger was past, in the middle of September. Werth and his men left.
While the enemy was repulsed everywhere, the two commanders once again plotted against Richelieu. It was decided by Gaston and de Soissons that he must be assassinated and the time was right. The King was busy meeting with his ministers and Richelieu was alone at Amiens. Six men, met with the Cardinal in the courtyard at Amiens. One stood behind him with a knife waiting for a signal from Gaston. Two men stood on either side of the Cardinal. Moments passed, then suddenly Gaston turned to go up the stairs frozen with fear, he could not do it. The man facing the Cardinal was left abandoned and embarrassed. The Cardinal bade the men goodnight and left. They sheathed their knives.
Eventually, the conspirators left court for their homes but continued to send complaints to the King against Richelieu none of which he seemed to take seriously. Once again, after some manipulation by the Cardinal, Gaston presented himself for reconciliation with his brother, the King but there were indeed other enemies of the great Cardinal.
A Flash of Scarlet Part XVIII
Richelieu's seeming paranoia continued to rise as he found the members of Louis' court powerful and independent enough not to come under his influence. They refused to spy for him and saw him as a cruel, mysterious despot and a threat to their own influence on the King. Even the King's own brother could not be trusted. Louis himself was not above listening to the accusations and complaints of his favorites.
Queen Anne, who had been befriended by the Queen Mother early in her marriage, was herself Spanish. That and her inability to provide an heir gave Louis, who was not a naturally warm person, an excuse to ignore her. Of course he had mistresses as all kings had but they were screened by Richelieu with a contract that there would be no physical relations. Louis even fell in love with one of them, Marie de Hautefort, when she came to court as a lady in waiting to Anne. The fact that there could be no relations between them was a scourge to Louis even though the pair frequently argued. Marie, who had a very religious upbringing, soon became close to Anne and refused to become an agent for Richelieu. She was soon replaced by another innocent, Louise de la Fayette, cousin to Richelieu's closest friend, Pere Joseph.
Louise however, was well under the influence of Pere Caussin, the royal confessor and her uncle the Bishop of Limoge. It was just possible that she would try to turn Louis' head against Richelieu. She sought advise from Pere Carré, advisor to the court ladies and Superior of the Dominicans in Paris. Naturally, he advised life in the convent. Pere Caussin, on the other hand asked why she should give up her friendship with Louis for an imagined vocation as a nun. In this he backed most of the court. Very soon he found himself disgraced and banished to Brittany. In 1637, Louise took up residence in the Convent de la Visitation where Louis visited her for some months.
Anne, still ignored by Louis, felt ever closer to her family and friends in Spain after the war. She visited the Abbey of the Val-de-Grace where she would write letters complaining about Richelieu to the various enemies of France. In the summer of 1637, Anne wrote a letter in code to Marie de Rohan, Duchess of Chevruese. The bearer of this letter La Porte, who was her valet-de-chambre, had already been examined by Richelieu and threatened with torture. He did not betray his mistress but was none the less intercepted.
Later, Richelieu visited her seeking a confession which she, overwhelmed, signed. She was then given forgiveness by Louis and a list of requirements for her conduct. She was to visit no convents and write no letters, her maids being set as guards over her. It did not stop there. Anne, ill with fear, was again examined by Richelieu's own court examiner and the Abbey was searched for further papers. Nothing was found, the Abbess was devoted to Anne. At this point, the Queen was ready to flee to Brussels, taking Mademoiselle de Hautefort and the Duc de Marcillac but without evidence, Richelieu could go no further.
Eventually, Anne and Louis reconciled. Madame de Chevreuse was exiled and Marie de Hautforte returned to court, maintaining her stormy relationship with the King and her friendship with the Queen. Richelieu however, was not so easily put off . He knew that de Hautefort was a danger to him , being friends with his former enemies, Monsieur, the king's brother and the Comte de Soissons who had already given Richelieu enough trouble.
Richelieu decided to distract Louis with a new favourite in the form of a beautiful young man, Henry d'Effiat, Marquis de Cinq-Mars. Cinq-Mars was sent on a journey with Louis where he could plead his cause; that de Hautefort could not be trusted and that Louis would have to choose between him and her. Soon Marie de Hautefort was sent on her way banished to her grandmother's estates not to return until the regency of Anne.
A Flash of Scarlet Part XIX
The relationship between Louis and Cinq Mars continued on. The 22 year old more than enjoyed the splendors of court life and advantages that would be bestowed on him. He had already been made Grand Equerry. When Richelieu found that Cinq Mars had his own mind, he thwarted his ambitions in every way possible, barring him from sitting on the Royal Council.
Cinq Mars having already been secretly involved in the plot to kill Richelieu in Sedan now allied himself with his friends, Fontailles and de Thou. This plot would include Gaston d'Orleans, the duc de Bullion and the Spanish government. De Thou, though struck with conscience, would not betray his friends. The winter of 1642 seemed an opportune time to attempt to influence the King to quit his Minister.
Richelieu and Louis were to travel separately to Roussillon and the Spanish campaign. Both were ill. By this time, Richelieu was so ill he had to be transported in a large litter which took considerable time. Cinq Mars took this time to talk of Richelieu's removal, possibly by force. Whatever Louis' reaction, he said nothing to the Cardinal. Gaston and de Bullion decided to keep their distance which left only the Spanish treaty. 17,000 men were promised by Spain as well as payments to all 3 men to hold Sedan while the Spanish invaded France. All conquests were to be restored to Spain but when Gaston received the document he held off on signing it. Interestingly, Richelieu was about to offer command of Northern Italy to de Buillion at this time. The King left the Cardinal in Narbonne who, though very ill, was certain of a conspiracy on the part of Cinq Mars. Trying to make the King aware of this was a great difficulty from afar.
It is thought that both Louis and Richelieu may have suffered from a form of malaria which would be prevalent in the hot, swampy south of France, Richelieu also suffering from tuberculosis which had crept down his right arm. The stresses of their lives were fast catching up with them. Louis would have been 41 and the Cardinal 57 years old.
The doctors bled the Cardinal several times, and incised the tubercle on his right arm. This provided only temporary relief. He encouraged Louis to remain in the south until Perpignan was taken, then commenced dictating his will. Soon, the doctors advised moving to a healthier location. He would have to be moved in his bed because his pain was so great.
To add to his worries, the war in Northern France was going badly but soon a letter arrived from the King declaring his fidelity. Richelieu replied with a copy of Gaston's secret treaty with Spain. It was not in Louis' nature to react quickly. He gave Cinq Mars time to escape which he did not. He was bold, if nothing else and followed Louis to Narbonne where he was arrested. De Thou had already been arrested as was de Bouillon. Then, as was his way, Louis left Narbonne for Fontainebleau stopping just long enough to visit the ailing Cardinal at Tarascon. There, a bed was moved beside the Cardinal's for Louis to rest on and converse with the Cardinal. In the end, he gave Richelieu authority over the fate of the traitors as well as that of southern France, his power was nearly absolute.
Cinq Mars and de Buillon were signed on the treaty anonymously only as "two men of quality" . Still there was little hope that Gaston would not give them up to save himself, he was no longer heir to the throne. The Cardinal's sentence would see him give up any involvement in government and take temporary exile in Savoy but not until he had confronted his two cohorts, now imprisoned. That would have been very suitable except for Louis' intervention. One thing Cinq Mars did have to do though was sign a document identifying himself and de Buillon as signators of the treaty with Spain. De Bouillon remained imprisoned in Casale until his wife threatened to open Sedan to the Spaniards. Still, he had to cede Sedan and Raucourt to France.
The description of the Cardinal's trip upstream with de Thou has been a colourful one for centuries. It was an entourage indeed. Cinq Mars was travelling by carriage from Montpellier but the other two by boat up the river Rhône. The Cardinal was in too much pain to travel by horse. Large numbers of horses towed the boats from the banks of the river. As always, the Cardinal protected himself with guards in the form of musketeers who filled the first two boats. Then the Cardinal's boat, magnificently decorated in gold and crimson velvet followed with his bed on it. De Thou followed, well-guarded in another small boat. Four more boats followed carrying courtiers and luggage. Their was also cavalry on each side of the river. When the boat docked the Cardinal's bed would be carried by shoulder slings to the residence. Doors and windows had been enlarged to make way for the bed. Once inside he would be transferred to another bed and furniture would be brought in. The company traveled for two weeks to Lyon where the trial was to be held.
When it was found that de Thou did not actually know about the Spanish treaty, Richelieu employed his chief interrogator, Laubardemont to threaten Cinq Mars into changing his story. At preliminary trial, de Thou found he had no choice but to admit to knowledge of the Treaty and so was condemned. The Cardinal had left earlier that day and was brought news that Perpignan had been taken and that Cinq Mars and de Thou were now headed for execution.
The rest of the story hardly bears telling. The usual executioner was taken ill and replaced by a handyman who was ill-equipped for a clean beheading, being only in possession of a simple cleaver. The two prisoners were basically hacked to death for want of expertise and an efficient implement. The bodies were transported back in the same carriage they had arrived in. De Thou's body was embalmed and taken to his sister. Cinq Mars was buried at the Feuillant's convent.
The Cardinal had pause for thought as he returned to Paris. It was plain that Louis knew about the possible threats to his life and had taken no measures to prevent it. Louis had warned Cinq Mars that killing the Cardinal would lead to excommunication from the Church, condemning their immortal souls. Captain Treville, head of the King's musketeers, then volunteered to commit the act and then seek absolution later. Louis forestalled him.
After a triumphant return to Paris, the Cardinal began to make demands that the court be cleansed of all "malicious spirits", including de Treville, thus starting a real argument with Louis which lasted for more than a month. The Cardinal's health continued to fail. He decided to indulge himself one last time with a privately staged performance of "Europe" which he had written with his favourite playwright, Desmaret de Saint-Sorlin. He was only able to attend a dress rehearsal. Before long he received a message from Louis. He agreed to not having anymore favourites and sending de Treville and his musketeers away.
On Friday, November 28, 1642, the Cardinal complained of a sharp pain in his side and had a high fever. On December 2, Louis came to his bedside at the Palais-Cardinal where Richelieu advised who his successor should be, Jules Mazarin. Louis fed the Cardinal two egg yolks and left to walk down the Grand gallery, hung with portraits of the Cardinal and himself. His sudden laughter echoed down the gallery behind him.
Richelieu's condition worsened greatly later in the day. He took his final communion and was given his last rites. On December 3rd, a different doctor was called in who gave him an opiate which gave the appearance of rallying him the next morning. That was short-lived. With his last breaths, he asked his beloved niece, Madame de Combalet to leave the room as he was about to die. Then quietly and with prayer he was gone. His family who owed him so much felt great sorrow; his niece, the Marechaux de Maille-Breze and de La Meilleraye.
The Cardinal's body lay in state at the Palais-Cardinal clothed in magnificent Cardinal's robes and cap, the ducal coronet and mantle at his feet. Parisians by the hundreds came to see the man whether out of hatred or admiration. Later, he was moved to the Sorbonne being carried in a carriage draped with black velvet and crossed with white satin, his arms embroidered in gold and silver. The six horses which pulled it were draped in the same black velvet. His pages each carried a long white tapered candle. All in Paris carried a white candle, until the city was ablaze with light.
The Cardinal was originally laid to rest in a crypt at the Sorbonne. At the end of the century, his niece had a marble tomb carved for him by Francois Girardon. During the French Revolution his body was disinterred and dismembered but the embalmed head was stolen and sometimes put on display. Years later, the owner was asked by Napolean III to return it for reinterment with the Cardinal's body. When the floor in the chapel subsided, a picture was taken of the well-preserved face.
A Flash of Scarlet Conclusion and Sources
There is much to be learned from history. What has made the great Cardinal so fascinating to people from all walks of life? For the politician, it may be his political policy or "le raison d'etat", described by Oxford as "a purely political reason for action on the part of a ruler or government, especially where a departure from openness, justice, or honesty is involved."
The term more commonly used is "the national interest". One might interpret it as doing whatever you have to to prevent the enemy from gaining control during war. This could involve destroying ships that may be taken or even creating alliances with former enemies. Richelieu found himself allied with the very people, French Protestants, he had held under siege. Local and religious interests gave way to those of the nation.
There is also the story of not only Richelieu's rise from impoverished nobility to the most powerful personage in Europe but the rise of France itself. He had restrained the Hapsburg dynasty and the power of the nobles to threaten the monarchy. A navy was created and colonies established. Richelieu had paved the way for the next King, Louis XIV, to rule as an absolute monarch and Louis carried on his policies making France the most powerful country in the late 17th century.
That being said, one should not discount the power of Louis XIII himself for there was no way Richelieu could proceed without the consent of the King. The image created by Alexandre Dumas in his novel "The Three Musketeers" of a weak, bumbling King is neither fair nor correct. Although Louis was a reticent and at times, volatile person, he was never the less a fearless soldier and just arbiter. Together, Louis XIII and Richelieu fought against incredible challenges , both died prematurely, giving their lives for their country.
Bibliography
JOSEPH BERGIN, Power and the Pursuit of Wealth. 1985. Yale University Press, New Haven and London
The Rise of Richelieu. 1991. Yale University Press, New Haven and London
JEAN-VINCENT BLANCHARD, Eminence Cardinal Richelieu and the Rise of France. 2011. Walker Company, New York
ELENEANOR C. PRICE, Cardinal de Richelieu. 1912. McBride, Nast & Company, New York
JOSEPH BERGIN AND LAURENCE BROCKLISS ED., Richelieu and His Age. 1992. Clarendon Press, Oxford
HENRY BERTRAM HILL , The Political Testament of Cardinal Richelieu. 1961. University of Wisconsin Press, Madison Wisconsin.
A. LLOYD MOTTE, Louis XIII, The Just. 1989. University of California Press, Berkley, Los Angeles, London